Some how a rumor got started that Reaper is awesome. It was and still is a piece of shit that has more bugs than a white trash trailer park and more crashes than a demolition derby.
I got news for you geeks. Recording isn't about fixing bug and coming up with work arounds and that is about all you assholes ever do with Reaper. A DAW is a tool your fucking tools and Reaper is a broken tool,
Here is just one page of bug reports on the Reaper forum. Click on the link so that the geeks who run the Reaper forum get pissed.
Why is there Reaper?
If you were to download Reaper and learned how to navigate on it and it didn't crash constantly you would quickly find that the plugins are so fucking bad that they will make you throw up in your mouth if you are lucky. You will probably have projectile vomit all over your computer screen. Then you install "free" plug ins recommended by the tone deaf assholes on the Reaper forum. They also suck and Reaper starts crashing. You go back to the forum for advice and some Reaper zealot will tell you the problem is your computer. Another clueless turd tells you to uninstall all the plug ins you installed but he can't tell you how to do it. You uninstall the free plugins and Reaper doesn't crash and freeze quite as much so you buy some plug ins like Addictive Drums. Installing them is more painful than having a root canal done through your asshole. Reaper starts crashing again.
Don't even think about using a midi interface.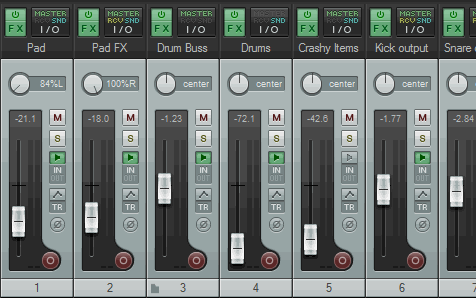 Reaper Mixer
Mixcraft Mixer
Reaper sucks you in with what sounds like a low price but all you get is a shitty audio engine and an ugly and difficult to use DAW
.
$225: full commercial license.
$60: discounted license.
DAW
s suck and some suck more than others. The bottom line is... if your goal is to make music you will hate Reaper more than your drunk drummer but if you like wasting your time learning shitty software and having geekgasms you will love Reaper.
WARNING TO ARTISTS TUNECORE IS A GIANT SCAM!